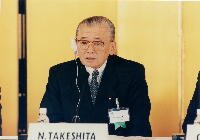 In 1991, during the run-up to the "UN Conference on Environment and Development" (UNCED), also known as the Earth Summit, it was becoming clear that the Conference's success depended on raising the funds necessary to achieve the preservation of the global environment and sustainable development. In response to a request from UNCED Secretary-General Maurice Strong, an International Eminent Persons' Meeting on Financing Global Environment was convened in Tokyo, bringing together former United States President Jimmy Carter and other persons of key standing, with former Prime Minister Noboru Takeshita playing the main role in organizing the event. The outcomes of this meeting contributed enormously to the success of the Earth Summit. GEA's origins stem from this eminent Persons' Meeting and GEA is now a non-governmental organization, founded by former Prime Minster Noboru Takeshita, which counts among its members the Japanese Eminent Persons who worked to bring about the initial convening of the Eminent Persons' Meeting, Diet members regardless of factional affiliation, and other persons of influence from government, industry, and academia.

In 1999, the GEA received the Global 500 Roll of Honour from United Nations Environment Programme (UNEP) for its contribution to the international community for many years in the area of global environment and sustainable development.

GEA regularly organizes international conferences to which it invites representatives of world-leading research institutes and international organizations, and individuals with influence over international public opinion. Through these conferences, GEA aims to highlight the state of the global environment and the crisis it is facing. At the same time, GEA works to raise international awareness about proposals adopted at its conferences.

Mr. Saito is the GEA's fourth chairman, succeeding Mr. Takeshita, the first, Mr. Kaifu, the second, and Mr. Hiraiwa, the third. In addition, Mr. Jimmy Carter, 39th president of the United States, and Mr. Jose Figueres, former president of the Republic of Costa Rica, serve as GEA's international advisors.